Spring band clamps
W.TEC®FBS - spring band clamps for the industrial sector
Hose-tube connections are often fastened with fixed clamps, referred to as hose clamps. Irrespective of the design of the clamp, e.g. worm drive hose clamps for screwing or ear clamps for clamping, a fixed force is transferred to the hose. However, this force changes because of vibrations and temperature changes: with increasing coldness, the connection becomes looser and untight; with increasing heat, the connection becomes tighter and damages the hose.
However, spring band clamps are self-tightening fasteners for hose-support combinations. Due to the use of tempered spring band steel, they have a very high degree of flexibility. They therefore continually adapt to the changing properties (changing operating temperatures and pressure ratios) of the hose and support. With a virtually consistent clamping force, spring band clamps ensure a constant, leak-free sealing without any damage to the hose or support. The large number of different assembly and locking variants ensures a maximum number of possible applications.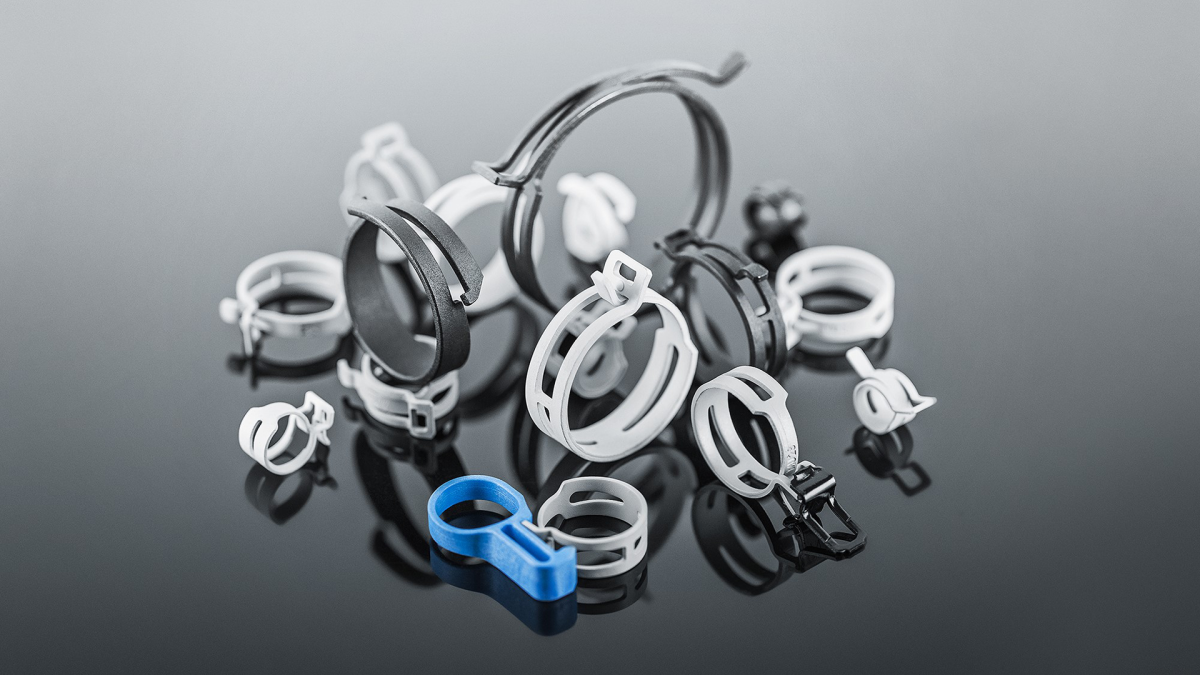 Why spring band clamps?
High flexibility
Continuous adaptation to the changing properties of the hose and supports thanks to the use of tempered spring band steel
Constant, even clamping force
Constant, leak-free sealing between -40°C and 210°C without any damage to the hose-support connection
Easy, quick and reliable assembly
Assembly time reduced even further thanks to the use of spring band clamps with handy clip
No maintenance required
No subsequent re-tightening of the connection required
Environmentally-friendly surface protection
Chrome (VI)-free zinc flake surface with exceptional resistance to chemicals and corrosion
Can be reused
Spring force does not diminish when used several times
Technical features
High-strength, alloyed spring steel 51CrV4
High level of protection against brittle fracture, especially at low temperatures
Multi-layered & environmentally friendly chrome (VI)-free coating
Zinc-containing, inorganic base coating and organic top coat
Complies with the guidelines of the German Automobile Act (RoHS-compliant)
Exceptional resistance to corrosion, temperature (up to 210°C) and chemicals
Guaranteed 720 hours of salt spray resistance in accordance with DIN EN ISO 9227
Available nominal diameters and band widths
Nominal diameter 9.0 mm - 90 mm
Band widths 8.4 mm, 10 mm & 12 mm
Depending on the hose-support combination, connections of up to a maximum of 11 bar can be fastened
DIN 3021: Hose clamps – Spring band clamps
DIN 3021-1: Dimensions, marking, materials, types
DIN 3021-2: Technical delivery conditions
DIN 3021-3: Spring band clamp-hose-spigot
​ ​